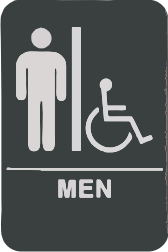 Bathroom Signs Provide Assistance and Convenience for Your Business 
Signage is an essential component for any business that wants to make customers feel safe and comfortable. The right signs provide direction and help visitors of your establishment find the necessary facilities quickly and easily. No where is appropriate signage more critical than in public restrooms. 
Whether you are responsible for maintaining a business, place of worship or community center, ADA-compliant bathroom signs are a necessity that cannot be overlooked. When visitors need to find a bathroom quickly, the signs you provide make all the difference in the ability to navigate your premises independently. At Signsations, we feature a broad range of bathroom signs to accommodate the needs of all your guests. 
Men's and Women's Bathroom Signs 
Standard signs to distinguish between men's and women's bathrooms are the first step in safety and convenience. While you can stick with traditional blue signs with white symbols and lettering for this purpose, Signsations also offers options that provide the necessary information while keeping with your distinct style and branding. 
Make your signs as basic or as elegant as you like – because Signsations can create custom signs for each client. You can rest assured your signs will be tailored to your facility while maintaining ADA compliance.
Directional signs usually include both male and female symbols with an arrow guiding guests to the proper location. If the restrooms are handicap accessible, you must include this symbol on your sign as well. 
Signs to label each facility will have the male or female symbol as well as the handicap symbol when appropriate. You can also choose between symbol only, or symbol and text, depending on your personal taste and the needs of your guests. 
Family Bathroom Signs 
For multi-purpose facilities, you can also choose from family or unisex bathroom signs. Family signs include a symbol of two adults and a child, while unisex signs typically feature two adult symbols. A handicap symbol should also be included if the restroom is accessible to guests in wheelchairs. Like signs specific to men's and women's bathrooms, these signs come in an assortment of styles and colors and can include symbols alone or both symbols and text, depending on your needs. 
With changes to bathroom accessibility in recent years, the right signage has become even more essential to ensuring the safety and comfort of all your visitors. Signsations signs will ensure your facilities are properly labeled to protect your guests as well as your business. 
Handicap-Accessible Bathroom Signs 
While all your guests need to be able to find your facilities easily, it is even more critical for disabled visitors to know where your accessible restrooms are located. Signage not only directs people to the facility but guides them on the easiest pathway to get there. Since it is possible not all your restrooms will offer the same accessibility, the appropriate signs will give visitors in wheelchairs peace of mind in knowing how to navigate your premises. 
The Americans with Disabilities Act (ADA) requires all bathrooms with handicap access to be labeled correctly. You can add the symbol to a current sign or create a separate sign for this purpose. The professional team at Signsations is committed to helping you design the best signs for you that are both ADA compliant and stylish for your business or organization. 
Ensuring Signs are ADA Compliant 
There are numerous benefits to ensuring all your restroom signs are ADA compliant: 
Avoid Violations: ADA compliance is the law. When your business or organization fails to comply, you can be subject to fines and lawsuits. When your signs are compliant, you can turn your focus to other aspects of your operation. 
Create a Comfortable, Inclusive Environment: ADA signs ensure all the guests to your facility feel welcome and comfortable. With the ability to address the needs of all your visitors, you instill an inclusive environment where everyone feels at home. 
Promote Convenience and Safety: The ability to find the facilities quickly and easily ensures guests maintain a comfort level throughout a visit to your facilities. At the same time, proper labeling offers greater safety as each visitor can find the appropriate restroom for their specific needs.  
Make it Cost Effective: ADA-compliant signs can be cost-effective to your organization or business when you work with a company like Signsations. Signsations' inventory provides the right signs for every need, style, and budget, ensuring you maintain compliance without breaking the bank. 
With a myriad of advantages offered by ADA compliant signs, there are a few basic rules to keep in mind as you design the bathroom signs for your facility: 
Easy to See and Read: The color of the sign and the color of the lettering needs to provide a stark contrast that makes the words and symbols easy to see and read. Backgrounds should have a matte finish so there is no glare to interfere with the visibility of the sign.  
Symbols and Braille Characters: ADA compliance requires your signs to feature the international symbol of accessibility, making it easy to identify. Other symbols should also be clear and easy to understand. Braille characters offer visually impaired guests the ability to read your signs as well. 
Proper Mounting: Rules involving the mounting of ADA compliant signs are precise. Signs must be placed on the wall next to the side of the door that has a handle or latch. Signs must be mounted 60-inches from the floor and guests should be able to approach the sign within 3-inches without running into a nearby object or getting hit by an opening door.   
Picking out the right bathroom signs can be a big task. For assistance in picking the right signs for your business or facility, contact Signsations today.