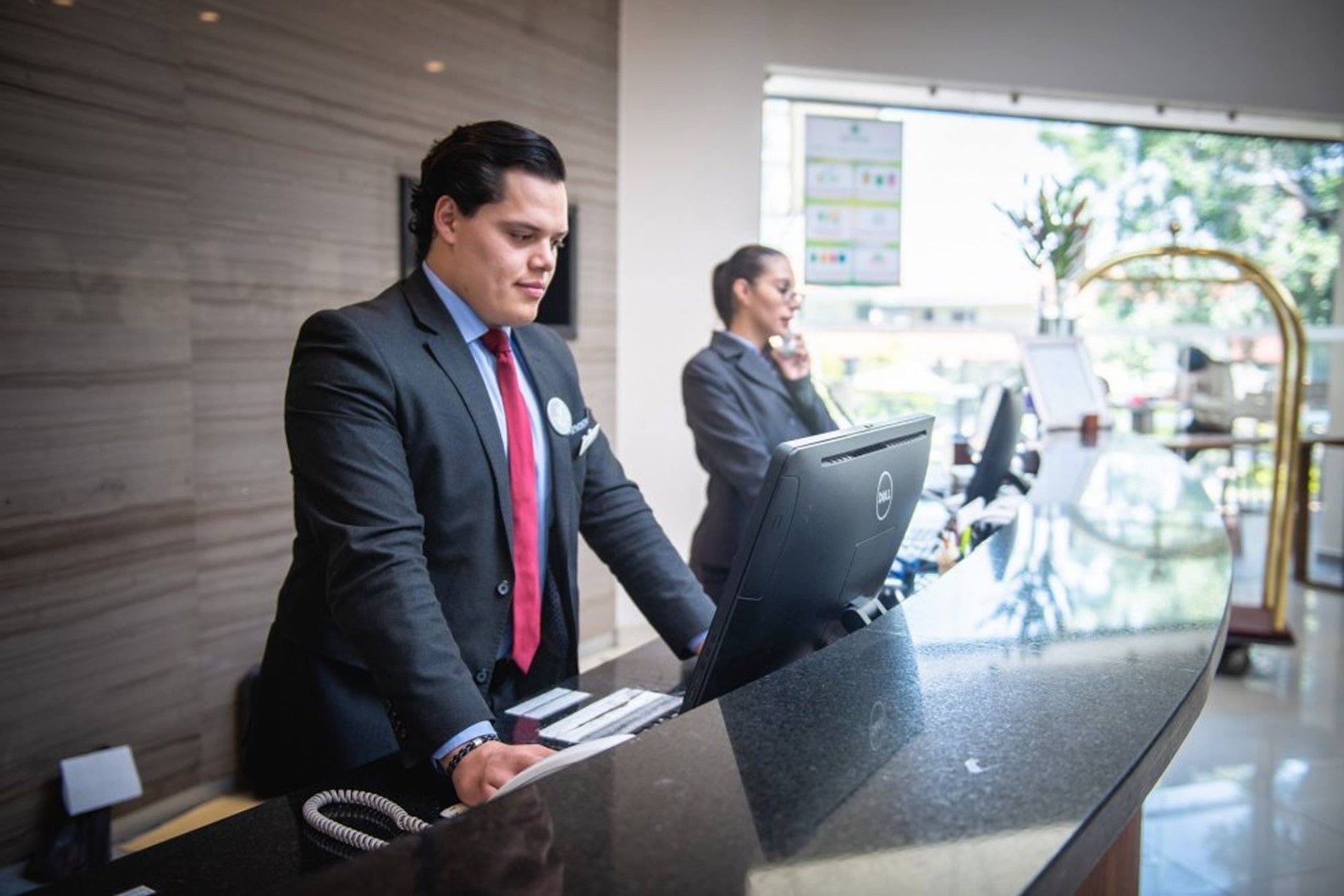 Investing in name tags for your employees is often overlooked as non-essential. However, custom name tags are easy to acquire, affordable, and have several benefits for your business. 
Creating employee name tags will increase the morale within your company business. They will also display the branding of the business and give customers a warmer welcome when they meet your employees.
Here we look at the main reasons why name tags are a good investment for businesses. We'll also cover the many benefits of choosing magnetic name tags over other fastening options.
6 Reasons Why Businesses Need Name Tags (Especially in 2022)
While there are several essential reasons why every business needs employee name tags, here are six of the top reasons.
1. Helpful For Customers
Employees who wear name badges will immediately become more approachable and welcoming to customers. Having a name tag will allow customers to address employees directly. 
This not only breaks the ice but makes employees feel more approachable so that customers feel more comfortable talking to them. Knowing the name of an employee lets the customer feel as though they know who they are speaking to. 
Adding a title below the name on the tag will also let customers find who they are looking for easily. It helps customers feel at ease since they know how to address who they have approached.
Customers will feel as though they can connect with an employee on a slightly more personal level. This connection will foster a feeling of trust which ultimately can lead to a sale. 
Customers want to feel at ease when they are at your business and this connection will create that feeling.
2. Cost-effective Marketing
Magnetic name tags can portray the corporate identity of your business in a cost-effective and subtle manner. A simple name tag can contain the business logo and name along with the employee's name and title. This offers a lot of information neatly with a professional display.
So, when employees wear name tags, they promote the business by showing the company's branding. Branding is important for all businesses to increase sales and gain trust from customers. As such, custom name tags are a small but effective marketing tactic. Not to mention, this level of branding is very low cost compared to other marketing options.
Customers will begin to recognize the business easier as they get used to seeing the business's logo more often. This will also keep the company's identity in the minds of customers even after they have left the store.
Displaying the company's brand in this way is therefore a good way to help customers identify your business and improve brand recognition. To maximize the effectiveness of creating brand recognition through name tags, it's important that employees wear them consistently.
3. Improved Company Morale
Name tags will also improve the internal business environment in many ways. Offering each employee an employee name tag or a name tag with the company logo will give them a sense of belonging and professionalism. This will improve the overall company morale by offering your employees a higher level of respect.
New employees who join the team will be able to get to know fellow employees easier. It will enable them to familiarize themselves with their colleagues immediately and help them to remember everyone's names a lot quicker. Employees who are on a first-name basis will work more efficiently as this familiarity can open communication channels between employees.
Wearing a name tag will help employees feel more comfortable in the workspace. It will also help them feel as though they are part of a team. Identifying employees will be easier for new employees to learn who their co-workers are. This will also foster respect for hierarchies as each employee can see the title of other employees.
4. Sense of Professionalism
Name tags will encourage employees to remain professional at all times because they are not hidden by remaining unknown. 
A name tag means that employees are meeting other employees and customers at a personal level. This means they are more likely to remain respectful to others and hold themselves to a higher standard.
Name tags also create a professional atmosphere in businesses where a higher degree of professionalism is expected. For instance, in dentists and doctors' offices and the hospitality sector.
5. Better Communication
Name tags create an environment that encourages open communication between employees and customers, especially in large companies. 
Internally, employees can avoid awkward situations when they forget other employees' names. This allows new employees to feel more comfortable and integrate earlier into their workplace experience. 
Name tags can also help start more conversations among employees and create bonds between them. A well-bonded and at ease workforce will benefit the company with improved productivity.
Communication channels are also better between employees and customers since customers will be able to identify employees. Repeat customers may remember names more than faces and they can easily find their preferred employee upon arrival. This can help build customer loyalty.
Name tags will also give customers an indication of who is an employee rather than another customer. This is important for businesses that have a more casual and less uniform dress code. 
Customers can feel comfortable approaching someone they can identify as working in the store. Customers who feel relaxed to approach employees will ask more questions that could lead to more sales.
6. Improved Accountability 
Name tags improve accountability in the workplace in several ways. If customers can easily identify employees, it will encourage employees to conduct themselves in line with the company's values. 
When employees are not upholding the company's standards, a customer can report the employee to management. Allowing customers to see name tags means they don't need to rely on distinguishing features to report employees.
As employees know they could be reported for wrongdoing, it will entice them to remain professional at all times. 
A name tag will also give a customer a name to mention when they are praising good service. Whether customers leave online reviews or speak to management, they can mention the employee's name. This will encourage employees to offer better service to receive the benefits!
The Advantages of Magnetic Name Tags Vs Other Fastening Options
When choosing the right type of name tag to use it is important to consider the fastening options. There are magnetic name tags, clip-on tags, and pins to choose from. However, magnetic name tags offer advantages over other types.
No Holes
One of the major advantages of magnetic name tags is that they don't make holes in clothing. This lets employees secure their badges to their clothes without damaging them. Name badges with pins will create multiple holes that can look unprofessional.
Easy To Secure And Adjust
Magnetic name tags are easy to secure in place. They are also strong and sturdy enough to stay in place throughout the day. They are also easy to take off which might be preferred by your employees. Employees can also easily adjust the badge to make sure it's straight and neat on their clothing at all times.
Sturdy Design
Magnetic name tags offer a professional look and are sturdier than pin varieties. This means you won't be replacing name tags regularly.
The Bottom Line
Curating a well-designed name tag template is important to correctly portray the brand and enhance the dress code.
Not only will name badges market your company, but they will also improve the overall morale among your employees. Adding a name badge to your marketing strategy and dress code will improve many aspects of your business.
To find out more about magnetic name tags and how to include them in your business, contact us today. We can help you with a free estimate and proof of your desired name tag.