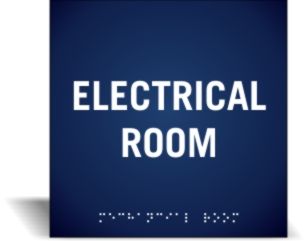 ADA signs are an essential feature of your business to ensure the safety and convenience of all your customers. The importance of ADA-compliant signs cannot be understated, nor can the need for you to understand why, when and how these signs need to be displayed.
The team at Signsations is ready to help you with all your ADA sign needs, providing the information you need to ensure your business is compliant with federal guidelines to keep your customers safe and make it as easy as possible for them to do business with you.
Reasons for ADA Signs
More than 7.6 million people in the U.S. today have a visual disability, which comprises about 2.4 percent of the entire population. These individuals can have difficulty performing tasks many of us take for granted, such as locating offices, classrooms, and restrooms in buildings. ADA signs are designed to make that process easier for visually impaired visitors and customers.
There are three good reasons to use ADA signage where appropriate:
1. They Make All Guests Feel Safe and Welcome
ADA signs help those with visual impairment find their way around your building. They alert visitors to exit paths for their safety and give them direction to find specific rooms and offices. When guests can find their way, they will feel safer and more welcome in your establishment.
2. They Show Your Guests or Customers that You Value Them
ADA signs let all your guests and customers know that you value them enough to want them to feel comfortable on your property. It is similar to when someone invites you over for dinner and takes the extra time to put out the nicest tablecloths and china. People that feel valued are more likely to return to your business time and time again.
3. They are the Law
In a nutshell, ADA signs are the law. In 2010, the Department of Justice published revised regulations regarding accessibility standards for people with disabilities in government, commercial and public buildings. These standards apply to all new buildings and those that undergo revisions or renovations. Failure to comply with the standards can result in hefty fines and other penalties.
Should You Add ADA Signs to Your Business?
ADA signs should be added to any permanent room or space that typically does not change function in a public building. This usually refers to restrooms, stairwells or closets, among other areas. Rooms that change function should also be labeled but may be indicated with a room number rather than a name when appropriate.
When in doubt, it is always better to add an ADA sign rather than omit one. While you won't go wrong by having extra signs, you could face severe penalties under the law for not having signs in areas where they are required.
Any building constructed on or after March 15, 2012, is required to comply with the 2010 accessibility standards.
Minimum Requirements for ADA Signs
In addition to requiring signs be present, the federal regulations precisely define how these signs are to be made and displayed. Some of the primary standards regarding these signs involve the following:
●   Font: Fonts must be sans serif, not an italic, script or otherwise decorative. The size needs to range between 5/8 inch and two inches, and the letters should be raised and uppercase.
●   Spacing: Also known as kerning, ADA sign lettering must have at least 1/8 inch between the closest part of two letters. While this may not be as appealing from a visual standpoint, it is beneficial for those reading the sign by touch.
●   Braille Standards: Signs in the U.S. are required to have Grade II Braille, that is either domed or rounded. Grade II Braille incorporates contractions and short-form words. The Braille needs to be located directly beneath the text, so visually impaired individuals can find it easily on your signs.
●   Mounting: Mounting heights on ADA signs can range between 48 and 60 inches above the finished floor. The only exceptions to this guideline are the tactile characters in an elevator car. Overhead signs must be 80 inches above the floor to ensure adequate clearance below.
●   Placement: Signs should also be located on the latch side of doors, making them easy to find. On double doors, signs are either place on the righthand side or located on the inactive leaf of the door if one is present.
●   Color, Finish, and Contrast: ADA signs must have non-glare backgrounds. While the color can vary, the contrast between the letters and the background must be very distinct. This entails either a very light font on a dark background or a dark font on a light background.  
Keep in mind that not all signs in your building need to be ADA compliant. Address and parking signs, directories and signs that are temporary do not fall into these criteria.
ADA Signs that are Right for You
ADA signs can comply with federal standards while enhancing your building, branding, and business. The experts at Signsations can help you find the signs that fit your individual style without compromising essential function. Whether you need a handful of signs for your office or dozens of signs for an entire building, we have you covered.
Designing and installing signs that are ADA compliant can be confusing and complicated for many building owners. If you need expert help with your ADA signs, contact Signsations today for the advice you need and the signs you want.