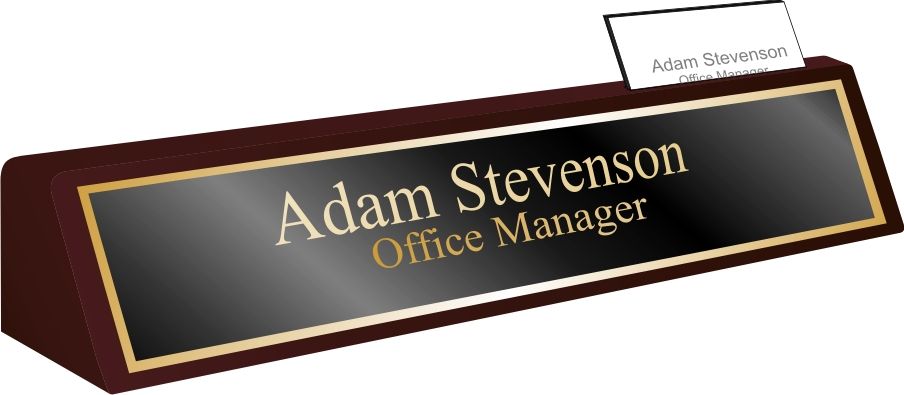 As the owner of a busy company, name plates may not be at the top of your priority list. However, something as simple as giving employees that distinct identity and place within your business can make a world of difference in your office organization and even your team's morale. Name plates are a relatively low-cost way to make employees feel at home and appreciated, which can go far in retaining your staff and keeping them happy. Here are a few benefits name plates can bring to your business: 
Make New Employees Feel at Home
Imagine the first day you started with your company. Remember how nerve-wracking the experience was? Now picture walking into the office your first day and finding a desk or cubicle with your engraved name plate. Instantly, you feel more at home knowing that a place has been prepared for you. 
In addition to helping employees feel they have a place in your company, consistent use of name plates makes it easier for newbies to learn the names and titles of co-workers. 
When you take the need to remember names out of the equation, your new additions can focus on getting to know those who work in their area, which helps to build relationships within your staff right from day one. New employees can also spend more time learning the tasks of the job, rather than the names of those who they will be working with daily.
Promote a Team Mentality 
Team building is an essential component of promoting healthy employee engagement. Studies have shown that employee engagement and employee loyalty go hand in hand. When employees feel like they are an integral part of something bigger, they are more likely to stick it out when situations become more challenging. A desk name plate can make an employee feel valued for their skills and rewarded for the contributions they make to the team and company.
The use of name plates can also help build your company's brand, by designing the plates to fit within your company's design scheme. You can even include your logo on nameplates to add a polished touch. Branding also helps employees identify with your company as a whole and appreciate the role they play in helping the company's goals come to fruition. 
Increase Employee Retention 
To understand how name plates fit into employee retention, let's go back to employee engagement. When an employee feels engaged with the workplace, both productivity and loyalty increase. Unfortunately, a survey published on The Daily Muse found that as many as 70% of employees do not feel engaged at work. The statistic is particularly noteworthy in light of the fact that only 12% of employees leave jobs for higher pay. A much larger percentage leaves due to lack of engagement with an immediate supervisor and the company in general. 
It might not seem like something as simple as engraved office name plates can promote employee engagement. However, that single step can be the first one in making an employee feel like a valued member of the team. While this step needs to be followed with others that promote engagement and a sense of involvement, it is not one that should be overlooked as you establish your corporate culture. A name plate lays the groundwork for each employee to understand that their presence is a critical component to ensuring the company operates at a peak level. 
Enhance Office Environment 
Name plates do more than give your employees a sense of purpose and identity. They also enhance the overall environment of your office, providing a professional, polished look that is attractive to employees and clients alike. Office name plates make it easy to identify specific departments and individuals within that department, ensuring easier navigation and more efficient office operations. 
Name plates can be created in a consistent color scheme and designed or customized to represent different departments or titles. While name plates that are alike promote a sense of team and community, differentiating employees and departments can also be helpful in allowing the rest of the office to identify where to go for information or support. Name plates can also include the company logo, which promotes a sense of unity while presenting a uniform image throughout the office that is distinctly professional. 
Name Plates from Signsations
When it comes to creating the perfect custom name plates for your office or business, Signsations has you covered. Signsations feature an extensive array of plates that can be affixed to a door or cubicle, or place on a desk for easy identification. In addition to the plates, Signsation offers a variety of holders, including brushed aluminum, rose gold or black. These holders can be customized to sit or hang, depending on where they will be used. 
Customize your name plates to your precise preferences, by including a job title, department or office number if you like. Signsations can also add a corporate logo. Whether you choose from a classic engraved look or a splash of color to liven up the office environment, Signsations has the name plates you need to keep your office organized, efficient and attractive to employees and clients alike. 
In addition to name plates, Signsations offers a full line of internal signs for your business, from directories to bathroom signs. Our expert staff will help you design the right signs for your business. 
Ready to create name plates for your staff? Contact Signsations today to discover the many options we have available in internal signs.