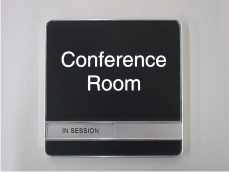 When you are creating your business space, signage may not be the first feature to come to mind. However, signs that identify offices, other rooms, and people are critical to an area that is both convenient and efficient. With the ability to customize signs to your precise needs, preferences, and branding, you can create an office space that is comfortable for everyone without sacrificing your individual style.
Signsations offers customized office signs to help businesses of all types put the finishing touches on their office space. Whether you are looking for formal signage to reflect your professional image or something with a more creative flair, we have all the signs you need. 
When you think about the many areas of your office where signs might be needed, the process can quickly become overwhelming. From identifying different people to helping your staff find amenities and facilities, your signs are a vital piece of the puzzle that helps your staff and visitors alike feel comfortable in your space. 
Some of the signs you might need for your office include: 
Logo and directory signs for your lobby area
Directional signs throughout the building 
Signs to designate exits and restrooms
Room and door signs 
Signs that are ADA compliant
Wall décor, inspirational signs 
There are different purposes for the signs you choose. Some are used to direct guests to the appropriate office. Others are used to reinforce your brand, such as your corporate logo next to your front entrance. Still, others may be needed for emergency situations, such as fire evacuation signs. No matter what your need might be, Signsations will design the signage necessary to complete your office space and ensure it is compliant with all regulations. 
Choices in Office Signs 
No matter what your personal preferences might be, and your corporate branding might look like, we can help you create suitable signs for your office. Some of the features you can use to customize your signs might include:  
1. Size 
From showy to understated, the size of your sign will make a difference in how much attention it gets and how well it serves its purpose. As you design your signs, keep in mind that you want people to be able to read them from some distance. Make sure the size of the sign, as well as the size of the text, are easy for most people to see.
2. Shape  
You can stick with the basic round or rectangular shapes for your office signs or opt for something a bit less traditional. Perhaps you want your signs in the shape of your company logo. You could also choose one shape for room numbers and another for names to make it easy to tell the difference. Your shape is only limited by your imagination and the material you select for your signs.
3. Color  
The colors you choose will be very impactful in terms of what your signs convey to others. This is one way to incorporate your brand in your building, with company colors throughout. Like shapes, you can also use different colors to designate different types of signs, if the color scheme works well together and blends nicely with the rest of your office décor.  
4. Text   
How you print your text is just as important as what you say. Decide on your ink color and whether you want your letters to be raised or recessed. The main factor to keep in mind here is readability. In addition to using a font that is easy to decipher, make sure there is enough contrast between the color of the letters and your background color.
5. Mounting   
Office signs can also be mounted in different ways. Proper mounting will put the finishing touch on your signs, giving them a professional edge throughout your office space. Mounting office signs with frames allows for easy changing of the text to accommodate new employees or changes in the purpose of a room. Stand-offs are another option when you want your signs to truly stand out by adding another dimension to them. 
Understanding ADA Compliance 
Some of your signs might be subject to ADA compliance. ADA stands for Americans with Disabilities Act, which is a civil law that has was enacted in 1990. The purpose of the law is to ensure all public spaces are accessible to those with disabilities.
In 2010, the Department of Justice published the ADA Standards for Accessible Design. These standards apply to all electronic and information technology. If your office is accessible to the public, you may need ADA-compliant signs in accordance with federal law. 
One of the primary characteristics of ADA-compliant signs is the addition of braille that allows sight-impaired visitors to know what your signs say. However, signs must also comply to allow individuals who are hearing impaired or those who have mobility limitations or cognitive disabilities to understand them as well. 
Customized Signs, Created for Your Business
Signsations knows the signage in your office space is an extension of your business brand and personality. We customize signs to your precise specifications to ensure the signs in your building are distinct to your business. Our signs are also ADA-compliant when they need to be, to ensure you follow the rules set by the ADA. 
Are you ready to create signage for your office that will stand out from the crowd? Contact Signsations today to design the perfect signs for your business.