Name Badges | Magnetic Name Tags | Engraved Name Tags
Custom Name Tags offer a professional and cost effective way to identify personnel and companies.  
Signsations has  various styles, sizes, and configurations of name tags.  Our classic name tags are laser engraved and are available with or with out logos. We also offer full color metal name badges, name tags and ID Badges.  All tags and badges have options of fasteners such as pin clip, bull nose clip, clutch fasteners and the very popular magnetic name tags. We also offer name tag lanyards for easy of carrying.
Call Today to order the Name Badge, Magnetic Name Tag or Engraved Name Tag that Best Meets Your Need.
Magnetic name tagss are custom name badges with color logos. If you need a professional name badge and want color, this is the one for you.

Engraved name tags are made of 2 layer acrylic and are available with magnetic or pin fasteners. Engraved name tags are great as professional name tags, or business name tags. The most popular colors are silver/black, gold/black and white/black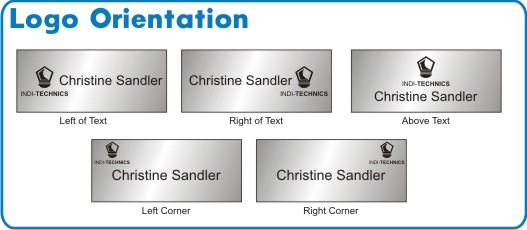 Name Tag Lanyards and Accessories