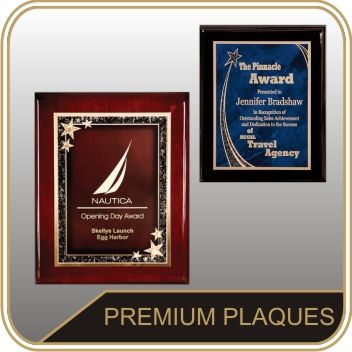 Awards and plaques are important in recognizing service, improvement, outstanding work, and more. Awardees feel valued, and motivated, upon receiving an engraved award. They can then display their engraved awards and plaques at home or in their offices and look upon them with pride.  
With the isolation and disruption of normal daily activities in recent years, now is an ideal time to recognize those that help to get us through the challenges. Employees have had to adapt to significant changes and disruptions and it's important to show that you value their dedication and commitment to your organization. An engraved plaque or award is the perfect way to do this. 
Why Are Plaques And Awards Important?
Plaques and awards are the best way to say well done, or thank you, to someone who deserves it. For employees, donors, teammates, and more, personalized awards serve to mark a significant event or accomplishment. 
Rewarding someone for their hard work, perseverance, or dedication has many benefits.
Enhance Recognition and Visibility
Upon receiving an award for excellent work, an employee's visibility to other members of the organization increases. An award engraved with their name shows their team, and company, that they are reliable. These employees become more visible within the company and feel valued. A little recognition goes a long way! 
Permanent Recognition
While a quick mention in a congratulatory speech, or a free lunch, is great, these moments pass quickly. People can display engraved awards for a long time. They have the benefit of being permanent. These awards make quite an impression and other employees will strive to work toward one of their own. 
Bolster Employee Morale
A physical award is one of the best ways to boost morale by showing that you appreciate the awardees' contributions. It is an example of how going above and beyond in a role can lead to reward and recognition. The opportunity to receive an engraved award or plaque may spur employees on to achieve more in their roles. 
Types Of Plaques And Awards
Plaques and awards are an effective way of saying thank you to your employees. There are many types of plaques to choose from so you can be sure to find the most suitable award plaque for your needs. 
Recognition Plaques
These plaques recognize someone who has done your organization a service or contributed to a cause over a certain period. An engraved message easily marks the importance of the occasion and a personalized plaque is more meaningful than a generic one. 
Wood plaques work well for this purpose. They are classic, and great value for money. However, you can choose from a range of different materials. Leatherette plaques or glass plaques are also options. 
To further personalize the award process, contact a member of our team at Signsations for information on custom awards or custom plaques. 
Award Plaques
People who deserve recognition in competitive events may receive an award plaque. For recurring recognition or spaces wherein there are many recipients, perpetual plaques are the best option. Perpetual plaques have a title at the top and space for the names of multiple award recipients below. 
Crystal Awards
You may wish to give an outstanding employee, or student, an award. This could be in place of, or in addition to, engraving their name on an award plaque. The best type of material for an award of high achievement is crystal, given its striking impact. However, acrylic awards offer great value and provide a similar effect. 
Why Should We Engrave Plaques And Awards?
Engraving these items personalizes them. It shows you put effort and thought into the awards or plaques to ensure they are personalized for a specific person or group of people. Here are some top reasons you should consider engraving awards for special occasions. 
Engraving Boosts Significance
Over and above the significance of a trophy, an engraving is particularly meaningful. Rather than receiving generic trophies, employees will love seeing one with their name on it! This extra touch makes the awardees feel special and valued. While engraving might cost a bit more than a general award, the benefits are worthwhile! 
Personalized Awards Are Still Cost-Effective
Customized awards are not necessarily going to break the bank. Simply select styles and materials that fit your budget. There's no need to compromise on engraved awards! At Signsations, we have the largest selection of award designs, which we offer at low prices. 
A Range Of Awards
Engraved awards and plaques allow for great flexibility when it comes to recognizing people at all levels of the business. Whilst recognizing employees at the top of the company is great, recognizing employees throughout the business works to boost morale. There is a large range of custom awards that can be easily manufactured and engraved. 
Has an employee made the most sales, improved their numbers the most, or worked for the company for a certain number of years? The opportunities to appreciate staff with engraved custom awards are endless! 
Engraved awards could include just the name of the awardee or an additional message about their contribution.
Should You Hold A Ceremony To Hand Out Award Plaques?
Whatever the award may be, people treasure recognition and appreciation from their company. Engraved award plaques offer permanent recognition. They can boost employees' morale as they will feel proud of their hard work and achievements. 
But, while handing out an award is one thing, an award ceremony - be it big or small - is also important for making employees feel valued and recognized in front of their peers and higher-ups in the company. 
Bringing together members of your organization to celebrate your employee's service will make them feel like they're a part of something bigger.
Book out a good venue, ensure a festive atmosphere and recognize individual contributions with physical awards. The great thing about physical awards is that if someone won't be able to attend the event, they can still see that you appreciate their contribution. 
Even if your budget is too small for a flashy event, each individual can walk away with a permanent reminder that you value their efforts. 
Things To Consider When Handing Out A Plaque or Award
A physical award represents an appreciation for employees going above and beyond in their roles. There are a few important factors to consider when ordering awards for an event. 
Take into account the type of person who will be receiving the award and their achievement. Big achievements may be best suited to awards made from materials, such as glass or crystal. 
These awards may look different depending on the industry involved. Awards within insurance, and art, look different due to the nature of each industry. 
Your budget is another important consideration. While some materials are more expensive, others are affordable. If you're going to splash out a bit more on the awards ceremony, consider a more cost-effective material or vice-versa. 
Awards also don't need to be large. You can keep them on the smaller side to be more budget-friendly.
Custom Engraved Plaques For Any Occasion
Physical, engraved awards are significant when it comes to recognizing contributions. These items have many benefits within your organization, such as boosting morale and increasing visibility. 
Signsations uses top-quality equipment and processes to manufacture and engrave all awards and plaques. We create each award with care, to suit your occasion perfectly. Be it a standard design, or a custom award, we strive to provide our customers with the very best experience. Get in touch with us today, and a member of our team will gladly assist you with any queries.